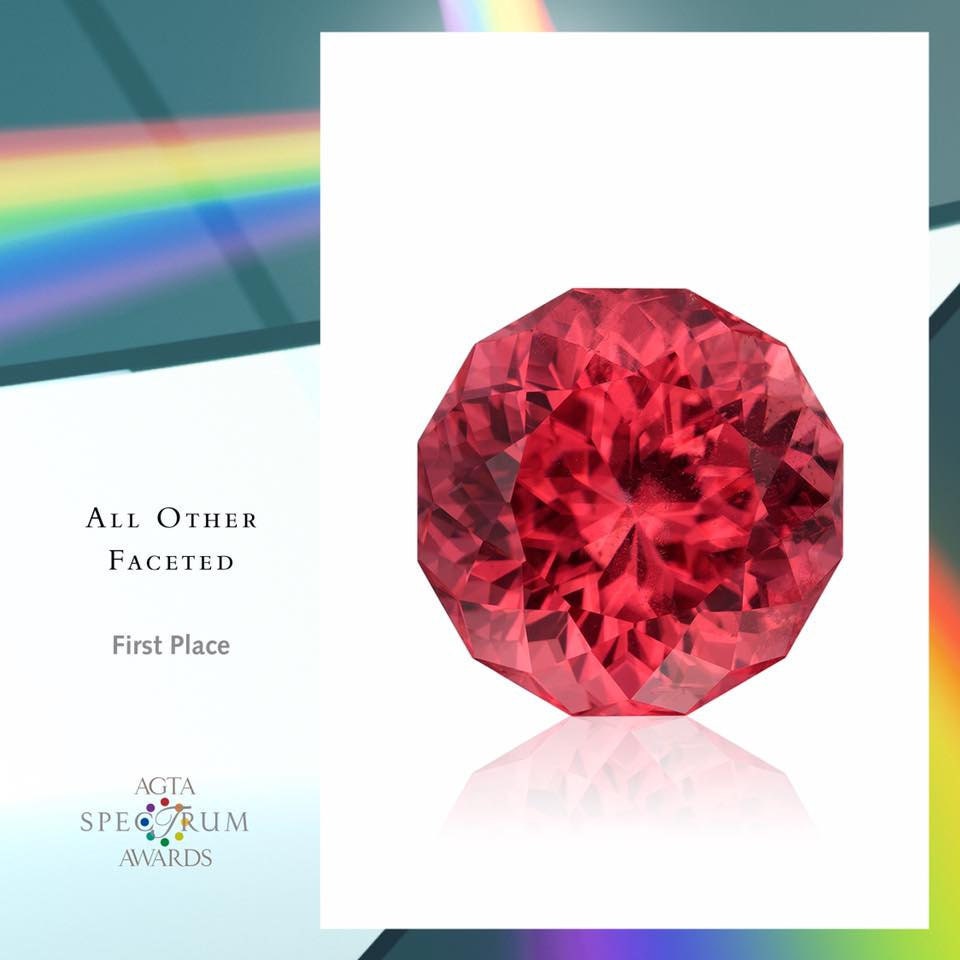 "Congratulations to Brett Kosnar of Beija Flor Wholesale for winning 1st Place in the All Other Faceted category in the Cutting Edge division with this 24.26 ct. round, Portuguese-cut Rhodochrosite." 
 I woke up on the morning of August 8th this year to some incredible news!   
I was pleasantly surprised by my friend Derek Katzenbach Facebook message congratulating me on the win. I was a bit confused because at that moment I wasn't aware of what he was talking about. Then it dawned on me this might be about a Rhodochrosite I faceted in late May. 
"So I just woke up and assume this is about a 24 ct Rhodochrosite" I typed. "Yup, well done my friend!" Derek replied. "Let's go see how I did." "You got 1st Place." 
I was just elated! I knew it was a fantastic gem, but I was competing against the best faceters in the world. So I didn't want to get my hopes too high. The first announcement came to Facebook with posts of the winners, and there is was. A photograph of the Rhodochrosite, I have to say I was pleased with the photograph, and it did the stone justice.  
Many more congratulations for peers and mentors came through the day and for the rest of the week. The amount of praise the stone got was spectacular. It was great to find out how many people were pleased to see me win, and I wanted to hug every one of them. 
This was my first entry into the AGTA Spectrum Awards, and to win first place was such an incredible achievement. 
Thanks to everyone who has been there over the years! Many people have encouraged us to keep up the good work, and we would get there someday. Thank you directly to Bob Van Wagner for the opportunity to work with such an exceptional piece of gem rough! 
- Brett Kosnar
Here are some link to other media outlets about the awards this year:
https://www.gemobsessed.com/designer-jewelry/top-ten-2017-agta-spectrum-awards/
https://www.forbes.com/sites/anthonydemarco/2017/08/10/colored-gems-take-center-stage-in-jewelry-design-and-lapidary-arts-competition/#5ed218ef3a3d
https://www.accessoriesmagazine.com/157349/agta-announces-2017-spectrum-awards-winners
https://www.instagram.com/agta_gems/
Here's a photo of the Rhodo while it was still on my machine and a video!